Neuramis fillers are a South Korean hyaluronic acid-based injectable collection made by Medytox, a world-renowned leading pharmaceutical laboratory. Neuramis fillers offer five different dermal fillers designed to address particular tissue's needs and provide an effective solution. Notably, Neuramis soft tissue fillers' bio-physicochemical properties are similar to those in the human extracellular matrix. Besides, these Korean dermal fillers contain auto-crosslinked polymers that improve their viscoelastic properties and prologue theirs in vivo residence time or long-lasting effects. They are used as soft tissue fillers for adding volume, wrinkle reduction, scar softening, and producing a face and skin enhancement and rejuvenation effect.
Neuramis Fillers SHAPE Technology Creates the Ideal Dermal fillers.
The innovative production of Medytox Neuramis SHAPE Technology includes a two-step covalent cross-linking with hyaluronic acid and reticulated gel, doubly filtration, and protein purification process. Neuramis fillers are the perfect dermal fillers. Remarkably, it is hypoallergenic, affordable, safe to inject and carry, and has long-lasting and predictable results. In addition, after its injection, it stays in its place with non or imperceptible migration. Furthermore, Korean fillers come in a prefilled, single-use, sterile, and ready-to-use syringe. Moreover, treatments take little time and don´t require any recovery time, so patients can keep their daily activities straight away.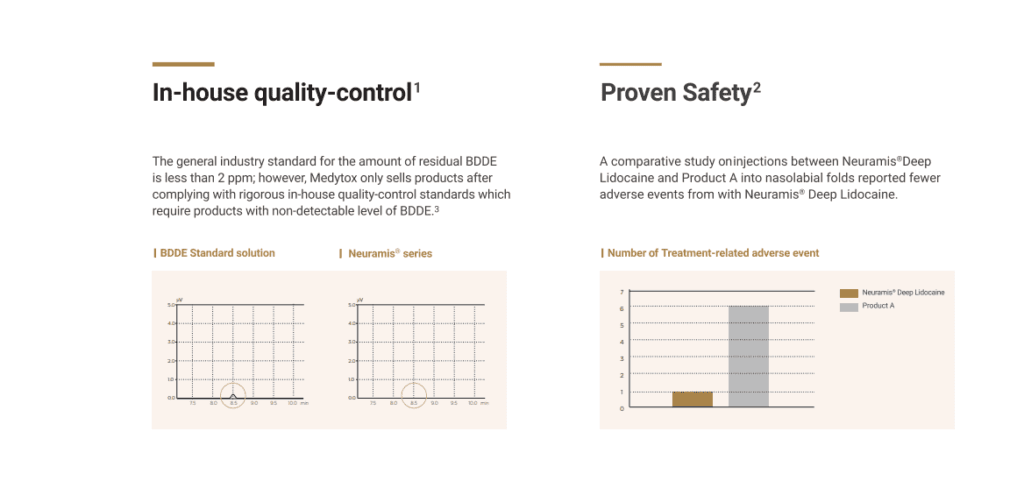 Neuramis® Light Lidocaine
Neuramis® Light Lidocaine has a stronger cohesiveness, compression and degradation resistance than human hyaluronic acid. Formed by A homogenous reticular net allows the addition of collagen and elastin fibres in the epidermis over the treated area. This product must be applied in the mid-dermis just below its junction to the epidermis. Therefore, it is ideal for superficial and thin wrinkles, particularly for superficial lines and eye contours.
Neuramis® Lidocaine
Neuramis® Lidocaine has five times more cohesiveness and compression resistance than the light version. Therefore, it is an ideal lip line filler for superficial and perioral wrinkles. It must be applied in the mid and upper deep dermis with outstanding results. Moreover, this Korean dermal filler presentation is ideal for lips augmentation, lips enhancement and lips contouring, producing amazing results with one treatment. 
Neuramis® Deep
Neuramis® Deep has three times more cohesiveness and compression resistance than the regular version. Its main use is as a face filler for deep and thick wrinkles and skin furrows. It is indicated for nasolabial folds, marionette's lines and chin enhancement.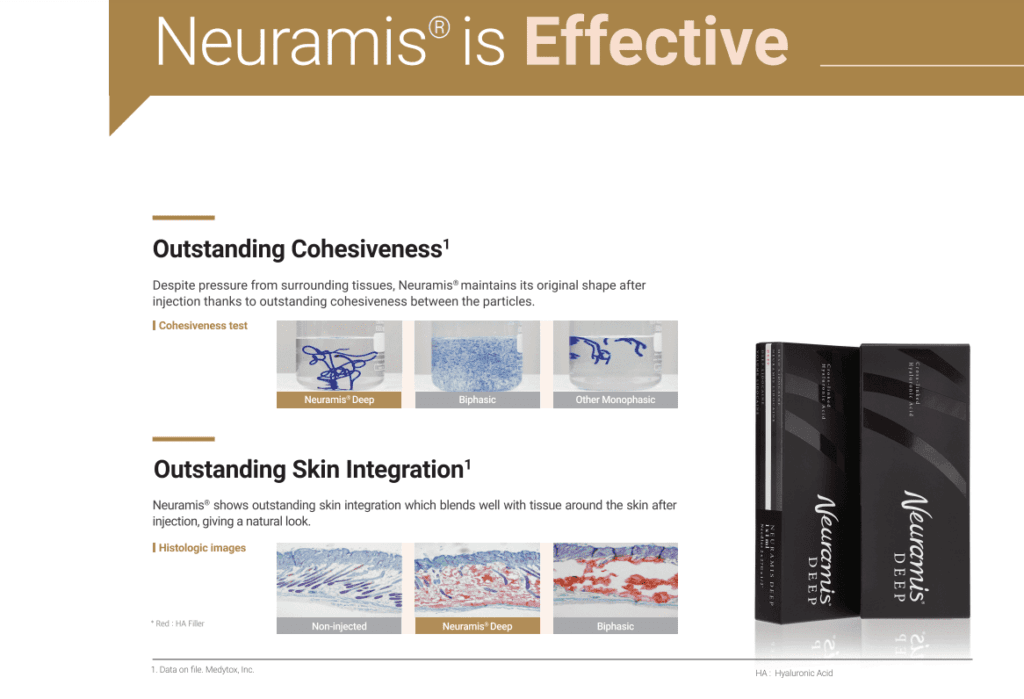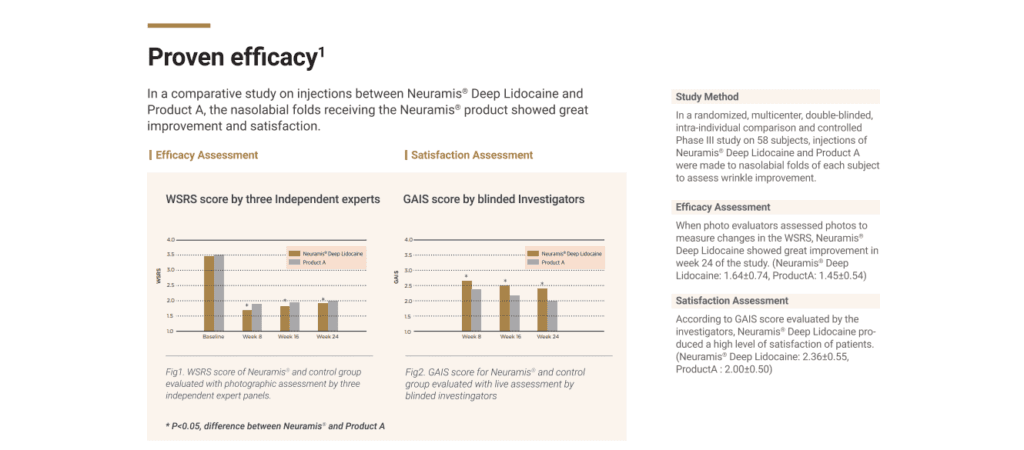 Neuramis® Deep Lidocaine
Neuramis® Deep Lidocaine keeps the same properties as the Deep but delivers a painless experience.
Neuramis® Volume Lidocaine
Neuramis® Volume Lidocaine has the highest molecular weight, cohesiveness, compression resistance and duration of the entire collection. It can be applied above the periosteum, in the subcutaneous tissue or deep dermis. Therefore, the main indications are sagging skin, sunken cheeks, defined cheekbones, cheek hollows and shadows, temple hollows and deep nasolabial folds.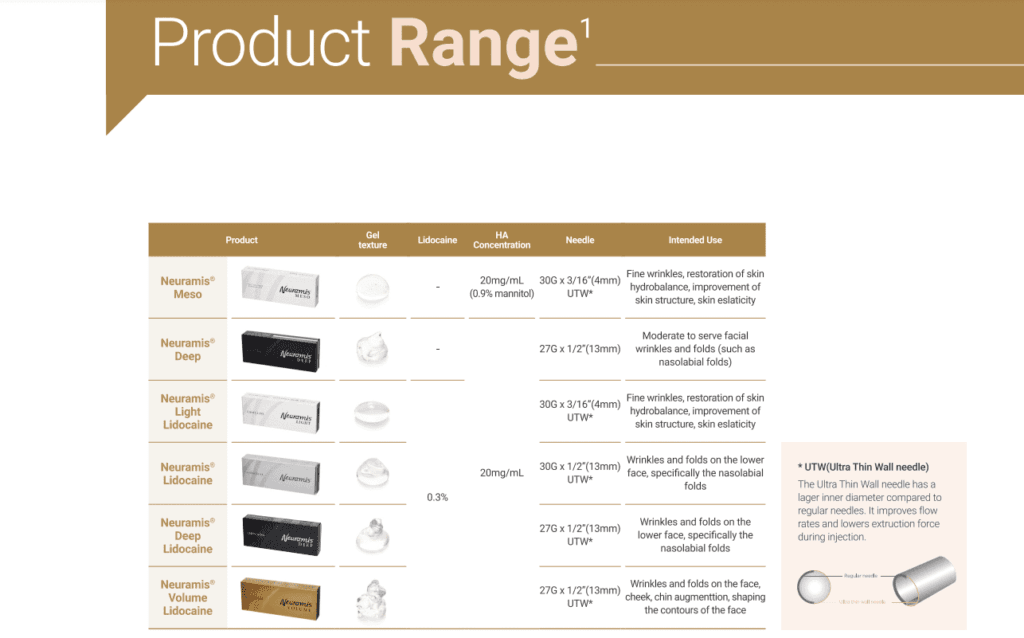 Most aesthetic doctors and plastic surgeons around the globe are sharing the benefits of Korean facial fillers with their patients. You can contact us with any inquiries you may have.